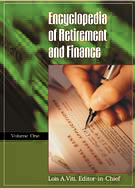 Encyclopedia of Retirement and Finance
Lois A. Vitt, Editor-in-Chief
Consulting Editors:
E. Craig MacBean and Jurg K. Siegenthaler

Associate Editors:
Jamie Losikoff-Kent, Candace D. Jenkins, Mary Helen McSweeney, Julie Overton, Sandra L. Reynolds, M. Shelton Smith, Denise Talbot-White

Managing Editors: Ingrid Carlson, Jay Schweig
Introduction by: Dallas L. Salisbury

Forward by: Yung-Ping Chen.

ISBN: 0-313-32495-6
Purchase individual copies at Amazon or Barnes & Noble
Contact ISFS.org for bulk orders
_________________
ISFS is proud to announce the publication of the Encyclopedia of Retirement and Finance, the only encyclopedia that focuses on all of the financial issues associated with retirement and later life.
This comprehensive, up-to-date, two-volume work includes over 180 entries on the most recent issues in financial planning and investing, retirement plans, health coverage and care, housing, employment and quality of life in retirement. Entries include finance and gerontology concepts, terms, policies and programs, the needs and problems of older adults, and more. Each article features references to research, bibliographies, sources for advice, and guides to further information.
More details and sample articles are available by clicking on the Contest, Contributors and Editors tabs below.
______________________________________________________